Ticket types
The entrance ticket is for the visit of Machu Picchu only. This ticket could include other sites, such as: Wayna Picchu, Machu Picchu Mountain or other options such as the Museum. When purchasing your ticket, you must indicate if you want the entrance to Machu Picchu only or with the other sites. Moreover, access to Wayna Picchu and Machu Mountain are located inside the Machu Picchu site. So, it is not possible to purchase entrance tickets to this sites separately.
Tickets are valid for only half a day. For example, if you chose to purchase a ticket to Machu Picchu and Wayna Picchu, you will be able to visit both sites during the same morning, but respecting visit and opening hours of each site.
Space limitations
Access to the different sites is limited in spaces and in visiting hours. You must chose the site or sites you want to visit before purchasing your entrance ticket. The ticket is valid for half a day. For example, if you want to visit Machu Picchu in the morning or the afternoon, you must purchase 2 tickets: 1 for Machu Picchu Group 1 and 1 for Machu Picchu for Group 2.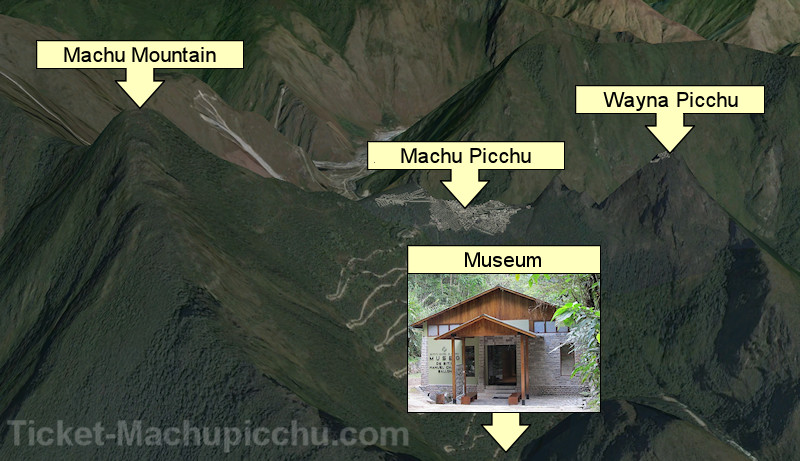 Tickets for 2018
Service
Entrance schedule


(24-hour format)

Maximum duration of the visit
Spaces / day
Machu Picchu G1
Machu Picchu only
from 06 to 12
4 hours
2500
Machu Picchu G2
Machu Picchu only
from 12 to 17:30
4 hours
3000
Machu G1 + Wayna G1
Machu Picchu only
from 06 to 12
4 hours
2500
Wayna Picchu G1
from 07 to 08
2 hours
200
Machu G1 + Wayna G2
Machu Picchu only
from 06 to 12
4 hours
2500
Wayna Picchu G2
from 10 to 11
2 hours
200
Machu G1 + Mountain G1
Machu Picchu only
from 06 to 12
4 hours
2500
Machu Mountain G1
from 07 to 08
4 hours
400
Machu G1 + Mountain G2
Machu Picchu only
from 06 to 12
4 hours
2500
Machu Mountain G2
from 09 to 10
4 hours
400
Museum
Museum
from 09 to 16
-
2500
Tickets for 2019
Service
Entrance schedule


(24-hour format)

Maximum duration of the visit
Spaces / day
Machu H6
Machu Picchu only
from 06
4 hours
800
Machu H7
Machu Picchu only
from 07
4 hours
800
Machu H8
Machu Picchu only
from 08
4 hours
800
Machu H9
Machu Picchu only
from 09
4 hours
560
Machu H10
Machu Picchu only
from 10
4 hours
600
Machu H11
Machu Picchu only
from 11
4 hours
600
Machu H12
Machu Picchu only
from 12
4 hours
360
Machu H13
Machu Picchu only
from 13
4 hours
540
Machu H14
Machu Picchu only
from 14
4 hours
540
Machu H6 + Wayna H7
Machu Picchu H6
from 06
4 hours
800
Wayna Picchu H7
from 07 to 08
2 hours
200
Machu H7 + Wayna H7
Machu Picchu H7
from 07
4 hours
800
Wayna Picchu H7
from 07 to 08
2 hours
200
Machu H8 + Wayna H10
Machu Picchu H8
from 08
4 hours
800
Wayna Picchu H10
from 10 to 11:30
2 hours
200
Machu H6 + Moutain H7
Machu Picchu H6
from 06
4 hours
800
Machu Moutain H7
from 07 to 08
4 hours
200
Machu H7 + Moutain H7
Machu Picchu H7
from 07
4 hours
800
Machu Moutain H7
from 07 to 08
4 hours
200
Machu H8 + Moutain H9
Machu Picchu H8
from 08
4 hours
800
Machu Moutain H9
from 09 to 10
4 hours
200
Museum
Museum
from 09 to 16
-
2500